DoorDash is a food delivery service that makes it easy to get meals from your favorite local restaurants, whether you're craving top cuisines or fast food without leaving your home, DoorDash offers many options for you to choose from. As we know, food delivery services add to the cost of delivering food.
If you're wondering how to get free delivery with Door dash, there are a few ways you can get DoorDash food and delivery for free.
This article aims to walk you through the best ways to find deals, earn gift cards or credits, and order food with no delivery fee on DoorDash.
3 Ways to get free delivery with DoorDash
DoorDash is one such food delivery app that has various surprising ways to save, from joining their DoorDash Pass to taking advantage of frequent promo codes, gift cards, and deals. Below are the top 3 ways to get free delivery with DoorDash.
Before we start, check out the latest Grubhub sign up bonus to get $25 credit on your order.
Use DoorDash Promotion
Current DoorDash promotion offers many rewards for new and existing users that will help you to get free delivery.
DoorDash expanded its network over the years and partnered with restaurants, so the company sometimes gives free food away through its network of restaurants. Such as free delivery and free items often offer special discounts and deals.
You can participate in seasonal promotions if you're an active DoorDash member. Also, DoorDash sends promotional codes in your mail occasionally, and you can redeem them within 30 days after DoorDash sends them.
Current DoorDash Promotion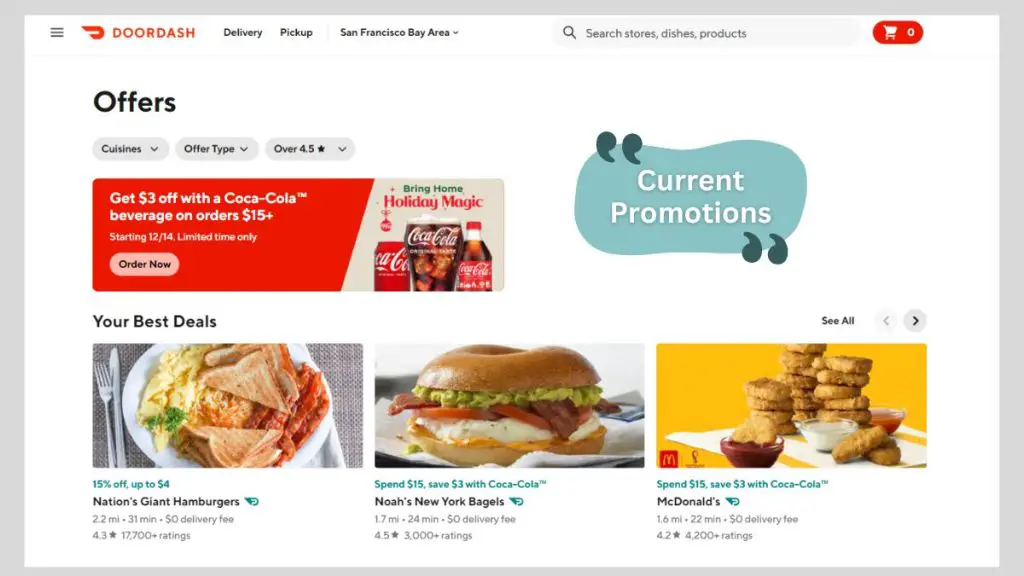 McDonald's NYE Free Egg McMuffin on $20+ (All Day) January 2023
MLS Next Fest $5 off any order
NBA ID Group Order Promotion
Annual Plan Promotion Terms & Conditions
McDonald's National Free Spicy McCrispy™ Sandwich on $25+ December 2022
Roku DashPass Free Trial Offer
See complete DoorDash current promotions here.
DoorDash DashPass Subscription for Chase Sapphire Cards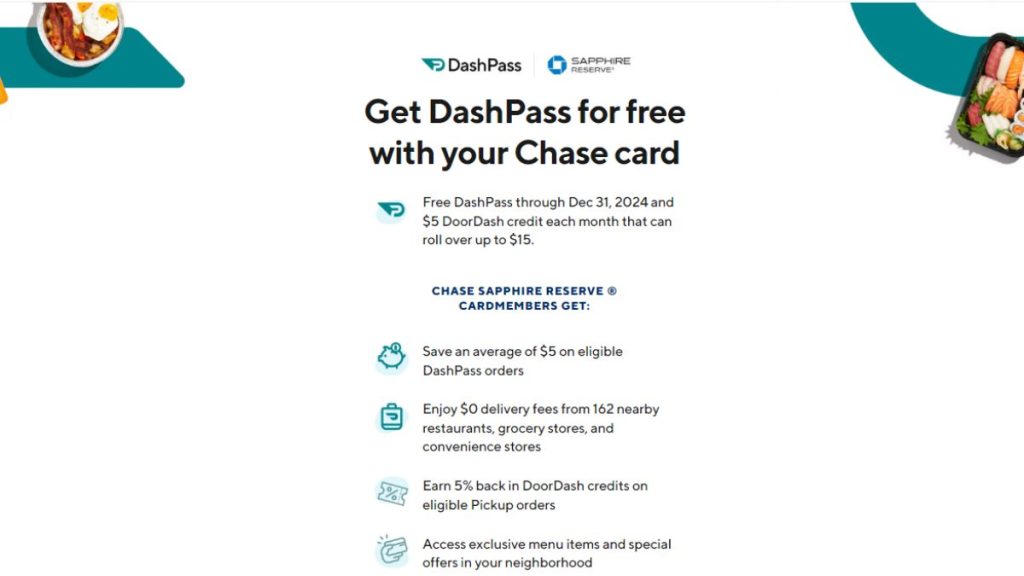 Chase bank credit card holders can take benefit of DoorDash one year of complementary DashPass for use on both DoorDash and Caviar. New cardholders and cardholders who have not activated their pass can enroll anytime.
To activate the free DoorDash subscription,
Add your Chase Sapphire Reserve card to your DoorDash profile, 
And a pop-up window will appear, asking you to activate it. 
You also receive a $5 monthly credit for your DashPass orders. 
The credits roll over every month to a maximum of $15.
Eligible Credit Cards for DoorDash Free Delivery
Chase Freedom Flex℠.
Chase Freedom Unlimited®.
Chase Freedom® Student.
Chase Slate®.
Participate in DoorDash Referral Program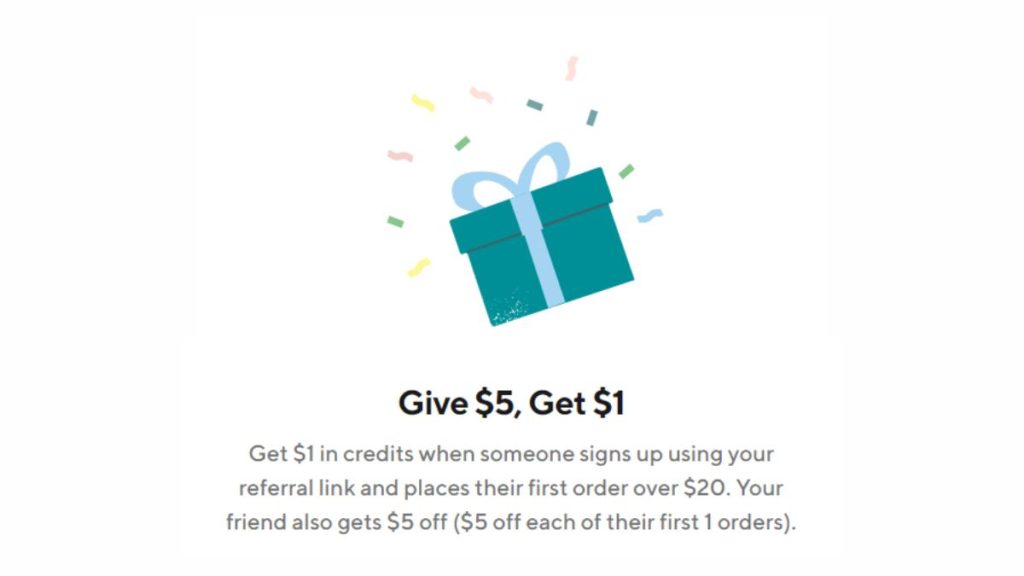 If you just signed up for doordash, You can earn $5 credit when your friend signs up using your special referral link and places an order of $20 or more. In return, your friend can also get $5 credit that they can apply to their order.
Start sharing your referral links so you can earn credits toward a free or discounted meal.
Steps to claim DoorDash referral bonus 
Login to your DoorDash account.
Go to My Account>Referral and copy your link.
Share your link with friends or family members and ask them to join.
Once they join using your link and make their first purchase, you will earn a $20 DoorDash referral bonus.
How to Get First Free Delivery with DoorDash
There are several ways you can get your first free food delivery with DoorDash. Below are the following ways you can try:
First-time orders: New customers can take advantage of the Merchant Promotion sign-up bonus of $0 delivery on their first order.
DoorDash New User Promo Code: Find the latest promo code from sites and use them for placing orders.
Existing Users: If you're an existing user, you can avail promo code by using DashPass or participate in a referral program and get discounts on food orders.
Use Seasonal Promotion: Use DoorDash seasonal promotion and follow their terms and conditions and get discounts on food orders.
Conclusion
If you get free delivery through the Chase credit card method, you will get free delivery from doordash as often as possible. This is a great way to enjoy food anytime you want. The method of hacking doordash is very easy and cost-free.
FAQs For DoorDash Promotions
Is DoorDash Free Right Now?
DoorDash is not free, but there are multiple ways to take advantage of free delivery with DoorDash, such as promo codes, deals, promotions, bank offers, and referrals.
How to get free DoorDash delivery with chase sapphire?
Chase Sapphire card members can apply for the DoorDash DashPass and get one year of complimentary free delivery at no charge. To receive DoorDash benefits, you must first add your Chase Credit card as a default payment method and then click the activation button.
How to Earn a Free DoorDash Gift card
Several sites, like surveys and reward sites, allow you to participate and earn a DoorDash gift card which you can redeem and enjoy your free meal delivery.
Is the First Month of DashPass free?
DoorDash offers a free trial for both new and existing use, never tried unlimited. To use free DashPass, you have to submit your payment method.