To all the cricket fanatics, the wait is over. Asia cup 2022 will be streaming today at the Dubai International Stadium, holding the breaths of all.
There has been much anticipation for the long-awaited T20 Asia Cup, which is now here. Rohit Sharma is leading India, while Babar Azam is leading Pakistan. There will be a high-voltage match between two of the most rival teams in the history of the world cup.
Rohit Sharma has taken the captain's reins from Virat Kohli and will lead the reinforced new team of players. So far, India and Pakistan have played 14 games, with India winning 8 and Pakistan winning 5.  
In this article, we will see how to watch India vs Pak T20 Asia Cup Live from USA sitting at home. We'll look at different services at our desk to provide us with the relieving service of cable data and live streaming. Let us dive right into it.
Details of T20 Asia Cup India vs PAK:
Without further ado, let me brief you on the details of tomorrow's match.
Data: T20 Asia cup 2022 India vs Pak is scheduled on Sunday night of 28th August 2022.
Timings: T20 Asia cup 2022 India vs Pak will be broadcasted on Sunday night. Match begin from 7:30 pm IST, 18:00 local, 14:00 GMT, and 19:00 PKT
Avenue: T20 Asia cup 2022 India vs Pak will be played at the Dubai International Stadium.
How to Watch Asia Cup India vs Pak Online in USA?
Willow TV is the largest broadcasting channel for cricket in USA and Canada. It has been enriched with the exclusive rights to broadcast games by the International Cricket Council (ICC). The board of control holds the right to the matches of the following leagues: Pakistan, South Africa, West Indies, New Zealand, India, Sri Lanka, Bangladesh, and Zimbabwe for cricket.
Willow works with the partnership of DIRECTV, Spectrum, Fios, Xfinity, Google fiber, Verizon FIOS, Charter Communications, Bright House Networks, and altice one. It affiliates with satellite, cable, and IPTV which are the major television providers in the United States. To watch cricket only, willow has a standalone subscription, offering direct access to cricket only.
How to access:
Go to their website or download the app, or log onto the site from any browser.
Read here to know more about them.
Features:
The main features of the website include:
Best site to watch cricket, football, and scores.
Real-time score card updates
Various screen resolution options for live streaming.
Works like a traditional subscription channel.
Disney+ Hotstar
HOTSTAR features in eight different Indian languages: Hindi, Tamil, Telegu, Punjabi, Bengali, Marathi, Kannada, and Malayalam, streaming tv shows, live matches, and movies.
Moreover, Hotstar has exclusive rights to broadcast Indian Premiere League (IPL). However, if you are looking for an international match then Willow TV is the best option.
Features:
The main features of the website include:
Live telecast of Cricket, Kabbadi, badminton, and hockey.
Streams in multiple languages.
Sling TV
Sling TV is an amazing American Television Service streaming service, both free and paid exclusively for the US, accessible by any device. Sling has a Willow TV subscription under the bundle of 'Blue' category, including two packages with Willow TV HD and Willow XTRA. Both have cricket content in the offer, with live and recorded as well.
Sling has this unique feature of categorizing the bundles into various categories, having 'BLUE' and 'Orange' as the popular ones.
Read here, to learn more.
Features:
100+ channels
Over 40,000 movies and shows for free.
Free options to explore.
Features in various languages.
ESPN+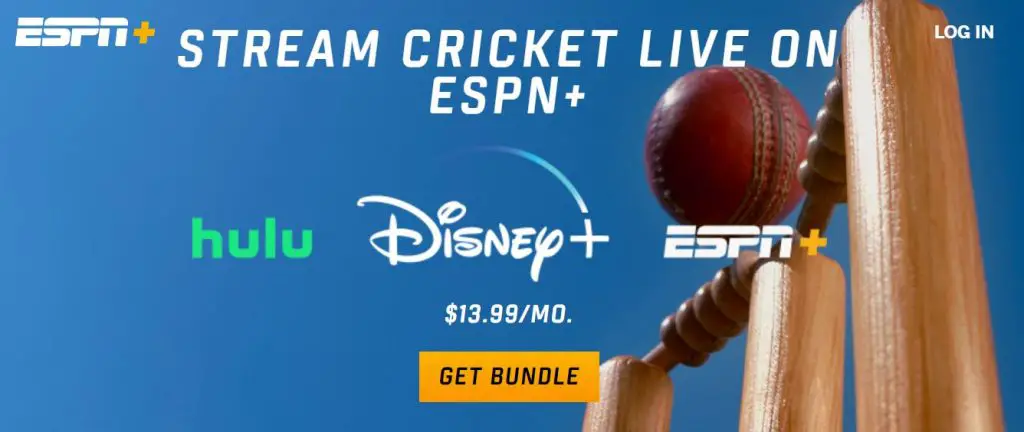 ESPN+ is not a standalone app affiliated with ESPN. Among the best ways to watch cricket, ESPN+ also comes into the list with its offers of live games, studio series, and programs. Live broadcast of soccer, golf, tennis, rugby, and moreover, cricket. Features T20's, ODI's, and test matches.
Learn more by clicking here.
Features:
Can be installed on a various number of devices.
Also works on browsers.
Subscription option of annually as well as monthly.
Cricket World:
The webpage is divided into various categories covering almost everything about cricket. You can stream live matches such as international tournament, series and T20's. and access their reports. In addition to that, you can dive into the sections of betting and predicting the match.
Learn more here. Go and watch the live stream now for free.
CricFree:
As suggested by the name, the website feature free live cricket streaming as well as interaction with sports enthusiasts all over the world. You don't have to subscribe or sign in to watch anything, and that is the key feature. So, if you are looking for a fast and free option then go for it.
Go and browse now here.
WebCric:
The website has coverage of International as well as local matches, tournament and series. You will only be required to make a sign up for an account to get access to the live streaming and broadcasting of cricket matches.
Best TV services:
DISH Network
Dish TV works on a contract basis, lock for 2 years max. It has four different packages to offer.
America's Top 120 ($64.99/month): here, it offers 190+ channels
America's Top 120 Plus ($79.99/month): 190+ channels featuring NFL Network and Regional Sports as well.
America's Top 200 ($89.99/month): offer 240+ channels.
America's Top 250 ($99.99/month): exclusive package, with over 290 channels.
DIRECT TV
Best TV and internet bundles, in 6.499$ monthly. By merging both, you'll be getting unlimited data for free. 150+ channels and 200+ hours of HD content available at your pace.
It is a better choice for cricket browsing because of its AT&T bundles and NFT tickets on Sunday. Hardcore cricket fans will actually love exploring their packages.
Learn here, by browsing right away.
Netflix:
Netflix is an amazing online streaming app and is also very famous in that regard. However, it focuses more on the in-demand content at times. The library updates itself in that regard. It's cheap and handy, and can almost be used for any kind of content in the market.
Netflix's subscription service: They have three plans
Basic ($8.99/month)
Standard ($13.99/month) 
Premium ($17.99/month)
Get to know more here.
Conclusions:
Cricket may sometimes bring you on your nerves, and when the issue is with the cable, internet, or website, the blood streams flow out due to anger. So, prepare afore, and don't miss out on any of the moments of today's T20 India vs PAK, the most awaited matches of all.
If you can't go for a paid subscription, this article has provided with many free options to explore. We don't want you to miss out on your favorite type of content, fellas.