Motorola, a brand famous for its smartphones, has made its debut by launching Best Home Appliances and smart-home products. Being successful in being a partner of Flipkart in India, Motorola has introduced the Best Motorola Home Appliances in India series which includes ACs, Refrigerators, and Washing machines.
Best Motorola Home Appliances in India in 2020 have True WI-FI technology and abundant features.
Variants
Motorola Air Conditioners:
Motorola newly launched AC series is one of the Best Motorola Home Appliances in India. It has five Models:
Motorola Non-Smart AC (1 Ton 3 star)
Motorola Non-Smart AC (1.5 Ton 3 star)
Motorola Smart AC (1.5 Ton 3 star)
Motorola Smart AC (1.5 Ton 5 star)
Motorola Smart AC (2 Ton 3 star)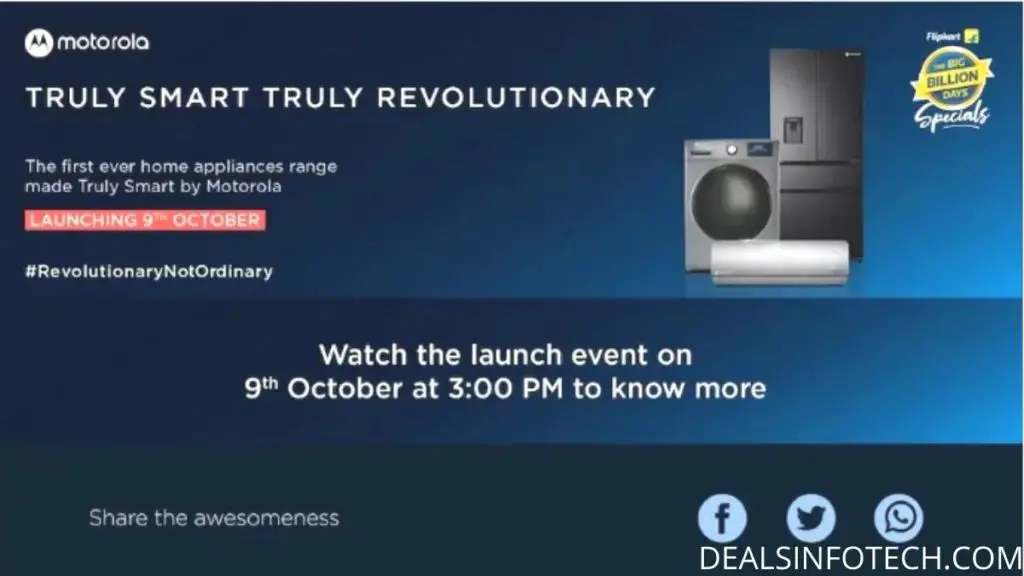 The AC series has remarkable features as Geo-Fencing, Dual-Invertor, and SurroundCoolX. Motorola claims that Dual-Invertor technology will increase production efficiency by 27% and will make the working of AC 20% silent. Also, Surroundcoolx can drop your room temperature to 18 degrees within the span of 30 seconds.
Moreover, the AC series is one of the Best Motorola home appliances in India 2020 offers sleep, dehumidify, auto, and self-cleaning modes. Starting from just Rs. 32,999 the Smart AC series makes their place in affordable Motorola home appliances.
Motorola Refrigerators:
Motorola's Best home appliances have Smart refrigerators as well. Motorola has introduced three models of their smart refrigerators:
533L French Door Refrigerator
507L Cross Four Door Refrigerator
592L Side by Side Refrigerator
These Smart refrigerators have True Smart sensors, Surroundcoolx, Smart storage space, Odour kill technology, True Wi-fi, and Adaptive Inverter Technology.
True Wi-fi enables users to operate the refrigerator while being outside.   You can change refrigerator mode, control temperature, and convert zones through your mobile phone. It can also notify you about any malfunction. Adaptive Inverter Technology can save energy up to 40% and increases the product's life. True-Smart sensors detect outside temperature to automatically manage the refrigerator's temperature for best cooling results. The multi-directional 360-degree air vents ensure uniform airflow.
Also, there is a water dispenser and an LED Touch panel, starting from just Rs. 51,990.
Motorola Smart Washing Machines:
Motorola offers five models of Smart washing machines in automatic and semi-automatic variants with different capacities as:
6.5 Kg               
8 Kg   
10.5 Kg             
8 Kg/5 Kg Washer Dryer           
10.5 Kg/6 Kg Washer Dryer
Making it an affordable Motorola home appliance its starting price is Rs. 23,499. These Smart washing machines have features like True Wi-fi that again enables you to check wash modes and brings in your notice any error.
To ensure the hygiene of your family the washed clothes are 99.9% bacteria sterilized. It offers five in-built True Smart sensors that keep in check the foam level, water level, speed, temperature, and a load of clothes. To keep clothes odor-free and fresh, it has an Oxygen regulatory feature as well.
Motorola Smart TV:
Motorola Smart TVs come with some incredible features and prices.
  The Motorola ZX2 Full HD Smart TV is the World's First HD tv With Dolby Vision and Atmos that enables a clear view and 3D sound experience. It is India's First Smart Tv powered by Android 10. The powerful 40 W AmphiSoundX Pro enables theatre-like sound. It has 100% side ports for unmatched convenience, two-way Bluetooth 5.0, and HDMI 2.1 compliant ports. It makes it the best Motorola homeappliance in India 2020 with its remarkable features and affordable price that is Rs. 13,999.
The Motorola Ultra HD 4K Smart TV comes with Dolby Vision, DTS True Surround, HDR 10, 10 Bit Color Depth, Dolby Audio, Quad-Core Processor, 30 W Front Wiring, Mali GPU, 16 GB ROM, 2.25GB RAM, and Bundled Wireless AndroidTV Gamepad and a price of Rs. 29,999.
Motorola HD and Full HD Smart TVs have an 8 Bit Color Depth, Mali GPU, 1GB RAM, 8GB ROM, IPS Panel, 20W Speaker, Dolby Audio, Quad-Core Processor, and a price of Rs. 13,999.
Motorola Smartphones:
Motorola has been known for its mobile phones for decades. It has
Razr Family
Edge+ series
Moto g Family
Moto e Family
 Best Motorola Home Appliances offer great products with cost lesser than that of other mobile companies. The RAZR family has a revolutionary 6.2″ foldable display, Pocket-Ready Design with Zero-gap hinge, Dual camera with night vision, and sleek design.
The Edge+ has Android 10 OS, GSM/5G Tech, 6.7″, 12 GB RAM, 256 GB ROM, and two powerful stereo speakers.
The Moto g family has the latest edition of g9 that has a 48-megapixel camera the same as that of g8. With a 662power processor and night camera vision mode, the latest g9 is worth a try. It has gained attention with its 2-day battery time and fast charging due to 20 W Turbo Power.
The latest e7 plus has a 48 MP Dual Camera with 5000mAH battery and a Qualcomm Snapdragon 460 processor that won't let you down. Also, the 6.5″ Max Vision HD+ display is just perfect for gaming and streaming.
Motorola Accessories:
Best Motorola home appliances have made user's daily life more convenient and fun. The products are designed keeping in view the best interests of the client. The Squad 300 Headphones are specially designed for children with an 85 dB safe sound limit. The Motorola tech3 3-in-1 smart true wireless earbuds are handy to use with a great sound experience.
Talking about Bluetooth speakers the Motorola Sonic sub 340 bass twin is the best home appliance having an 11-hour playtime with the most up-to-date Bluetooth 5.0 technology and an increased broadcasting bandwidth. This party-friendly speaker is waterproof as well. The mdc85 dashcam, mdc100, mdc400 dashcam have a sleek design with a remarkable resolution, built-in speakers, microphone, and most importantly the affordability. The mdc85 has 1280*750p resolution and a 100-degree wide viewing angle.
Why Motorola?
With the growth of technology, numerous Mobile and Technology companies have emerged, making it difficult for clients to have products beneficial in both, quality and price.
Best Motorola Home Appliances have paved their way in the Indian market by providing the best features, technology, and designs of their products while having affordable prices. The company also has regulatory software to ensure the safety of the privacy of its users.
Motorola Home Appliances Showroom
Motorola has established its place in all the big cities in India, such as Hyderabad, Mumbai, Delhi, Pune, Kolkata, and many more. There are several showrooms in these developed cities. The customers can directly contact them and enquire about the necessary. They provide 100 percent genuine products with various discounts. You can also get the product online in Amazon or Flipkart and many more. Where they give many discounts and other bank offers.
Motorola Home Appliances Customer Care and Motorola Home Appliances Service Centre
Motorola Home Appliances gives a warranty to each of its home appliances and ensures its quality. If any difficulty is faced by the customer regarding any appliance, they can contact Motorola Home Appliances Customer Care.
They are available 24 hours a day and 7 days a week. You can call them or contact any time for Motorola Home Appliances. If the appliance is faulty and within the warranty period, it can be replaced or repaired free of cost. Any complaint about the service or regarding any appliance can be filled. If an appliance needs to be repaired, a customer can quickly contact the nearest Motorola Home Appliances Service Centre. Given below are some numbers a customer can contact if needed:
1800 419 6686 toll-free customer care number (24*7)
Last Words:
To conclude, it's not wrong to say that Best Motorola Home Appliances are making their way in the hands of users due to their latest technology, long-lasting battery life, sleek and handy design, large storage space, latest Quad-core processor, and high- resolution camera.
The Smart refrigerators, TVs, Washing-machines and ACs are a great edition to Best Motorola Home Appliances in India in 2020 with their incredible features and environment-friendly nature. They are designed as such to bring convenience in the busy and bustling world of the 21st century. Most importantly, all Motorola products are affordable for any common man to use.
More Under DEALSINFOTECH.COM