Silky and smooth hair is every girl's dream hair look. We've come across many models whose silky and shiny hairs dazzle your eyes.
Who doesn't want to have such hair for an event?
Most of us always want to style our hair, and straightening seems to be the go-to style we all prefer. Style your Hair with best hair straightener.
Many women have straight hair, but many women do have curly hair and have to work a mile extra to have hair of the former kind.
Straightening hair can dramatically transform your appearance regardless of the attire you have. Be it formal, ethnic, or semi-western; it adds up to your style tremendously.
Having a personal straightener reduces the hassle. It provides top-notch salon-style at home and still helps your hair to retain its natural vitality and luster.
And if you belong to the second category, don't despair. WE have your issues fixed.
Here are few best hair styling tools of 2020
1. HSI GLIDER ORIGINAL CERAMIC FLAT IRON
A flat iron with tourmaline and ceramic plates. A travel-friendly hair styling tool with an extra-long cord, dual voltage option, and a pouch too.
This flat iron is good for frizzy hair as it has a provision of Argan hair oil treatment. It s say to use. And include Heat Balance micro-sensors that protect your tresses from unwanted heat.
2. REMINGTON 1-INCH FLATIRON WITH ANTI STATIC TECHNOLOGY
Smoothen your locks with the best hair styling tool from Remington. This flat iron heats up to high temperatures instantly, which ensures less hair damage. In no time, it lends your hair a refreshing and natural look.
This flat iron features an Anti-Static Technology, turbo heating and is lightweight.
3. BABYLISS PRO NANOTECHNOLOGY ULTRA-THIN STRAIGHTENING IRON'.
This hair straightener works wonders on coarse hair. The wide titanium plates heat up quickly and cover large chunks of hair at once. The ergonomic design of the hair straightener reduces hand fatigue.
4. CONAIR UNBOUND CORDLESS TITANIUM MULTI-STYLER
Usually, it takes 30 minutes to an hour to style your hair with a straightener if you have thin fine hair. But if you have thick medium volume hair, then these locks test your patience.
The Conair Unbound Cordless Titanium 1-inch Multi Styler has adopted the cordless system to reduce your mirror time.
The titanium plates and the barrel on the hair tool glide through your hair to give a polished result. This best hair straightener contains 2 lithium-ion batteries and a removable cord for charging. The charging time for the hair straightener is 12 hours. Once charged, you are a stylist for 25 minutes.
The flat iron het up to 400 degrees Fahrenheit and has an auto-shutoff feature too. The heat setting option allows you to set the temperature according to your hair type. The cordless feature defines its portability.The LED display makes temperature management easy.
This hair styling tool reduces frizz but cannot be used on thick hair. It also does facilitate usage during charging.
5. BIO ICONIC 10 X PRO STRAIGHTENER
The Bio iconic 10 X pro straightener and Styling iron is the first hair styling tool that styles hair in less than 10 minutes.
It is created using volcanic minerals that emit negative ions that penetrate water molecules deep into the hair. In turn, this locks the moisture, conditions it, and gives a lustrous shine to the hair.
The rounded tip of the vibrating plates styles your hair from the root to the tip. The digital controller provides temperatures up to 450 degrees Fahrenheit. The Bio Ceramic heaters constantly heat and provide uniform heat.
The hair styling tool has an ergonomic design with a soft-touch handle and a 9 ft swivel cord. The dual voltage feature and automatic 1-hour shut enhance the efficiency of the hair straightener.
This hair styling tool has a 5-year manufacturer's warranty.
6. CHI TECH 1″ CERAMIC DIAL HAIR STYLING TOOL
One of the best hair styling tools in the industry. The ceramic plates of the hair straightener help create various hairstyles.
It is famous for The sleek, smooth design and multi-styling feature.
Designed using the best ceramic technology, the best hair straightener heats consistently at the temperature set. The adjustable temperature guide helps to prevent unnecessary heat damage to your locks. It has a maximum heat of 410-degree Fahrenheit, which is suitable for all hair types.
7. ghd Platinum+ Professional Performance Styler
The ghd Platinum Professional hair straightener is perfect for all hair types. The flat iron heats up to 356 degrees Fahrenheit in 20 seconds.
The ceramic floating plates provide precision while styling and smooth your hair with minimal breakage.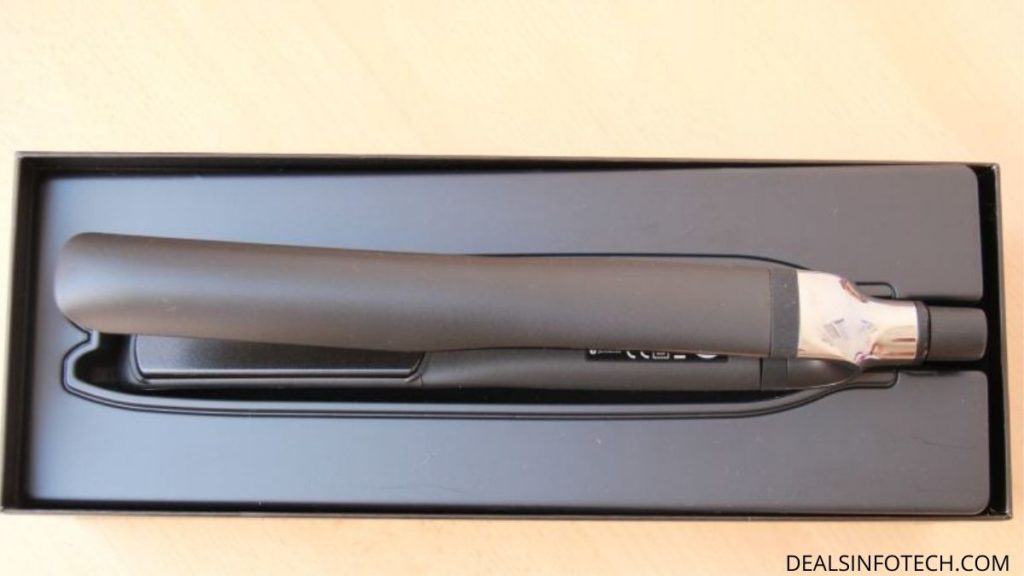 The hair straightener is travel friendly with the 9- feet swivel cord and universal voltage feature.
The only drawback of this high-performance hair styling tool is hair entrapment in the plastic casing.
8. KIPOZKI PROFESSIONAL TITANIUMFLAT IRON
KIPOZI's best hair straightener features titanium floating plates with temperature control that can be monitored digitally. The hair straightener shuts down after an hour's usage.
The titanium plates of the flat iron add volume and shine to your locks. It is also suitable for colored, fragile hair and is one of the best hair styling tools for damaged hair.
9. DORISILK Professional Ceramic Tourmaline Steam Best Hair Straightener
It is a professional hair straightener built with steam technology.
With 5 conditioning steam vents, the hair styling tool adds moisture and gloss to your hair, making it look healthy and manageable. The Ceramic tourmaline plates are provided with 6 temperature modes where the hair straightener heats up uniformly.
This best hair straightener reduces frizz and can be used to straighten and curl your hair. It has a 60- minute auto shut off feature and a LED display to manage temperatures.
The compact design makes it travel friendly.
The device's only disadvantage is it makes noises on heating and cannot be used for styling thick and curly hair.
BEST HAIR STRAIGHTENER: FEW OTHER FLAT IRONS THAT ARE BEST TO USE
1. Amika flat iron
Amika Ceramic Styler – Giraffe Design
Amika is a flat iron-made up of ceramic plates that generate far-infrared heat that softens the hair by preserving moisture in the hair shaft and sailing the cuticle, preventing hair damage.
And if you are a frequent traveler, Amika's best hair straightener is at your service. You can wrap the straightener in the traveling bag, and you are good to go.
2. SEDU FLAT IRON
SEDU PROFESSIONAL ONE AND HALF INCH FLAT IRON
It is made with ultra-smooth tourmaline plates that distribute heat evenly and straighten your curls completely.
The hair styling tools protects the hair from high temperatures. It does snug your hair while styling and cuts your curling time without any compromise in the results.
3. L'Ange Hair Aplatir Straightener (flat ceramic iron)
The hair straightener is made of ceramic plates and heats up to 450degrees Fahrenheit. The 1005 Titanium Flat Iron0Negative ion Technology is the best feature of the hair styling tool.
It has a dial for temperature control with an on/off switch for ease of use.
The portable design is ergonomic for use and an easy travel partner.
4. HEAD KANDY 2.0 STRAIGHTENING BRUSH.
The Head Kandy 2.0 Straightening Brush is a dual-use hair styling tool. With the functionalities of a brush and a straightener in one device.
Conclusion
Straightening hair will drastically improve your look independent of how clothed you are. It adds up to the style immensely, whether it is formal, ethnic, or semi-Western.
Personal straightener eliminates trouble. It promises top-class life at home and also maintains the hair to preserve its natural vitality and brilliance.
The head of the outer non-heated pins helps an effortless glide through hair. It also has an advanced negative ion generator, which helps to eliminate frizz, static, and flyaways. You can buy these best hair straightener on Amazon or flipkart.
The tourmaline ceramic plates of the hair straightener emit negative ions that lock the moisture in the hair.
The device comes with an LCD indicator that indicates the temperature control.
More Under DEALSINFOTECH.COM