Due to advanced technology, TV screens are also getting bigger and bigger. 32 Inch Led Tv is complete home-friendly, but you will get the fantastic watch time and best features. Here on this post, I will try to cover all the best 32 inch-led TV, which will help you get the best experience while watching something.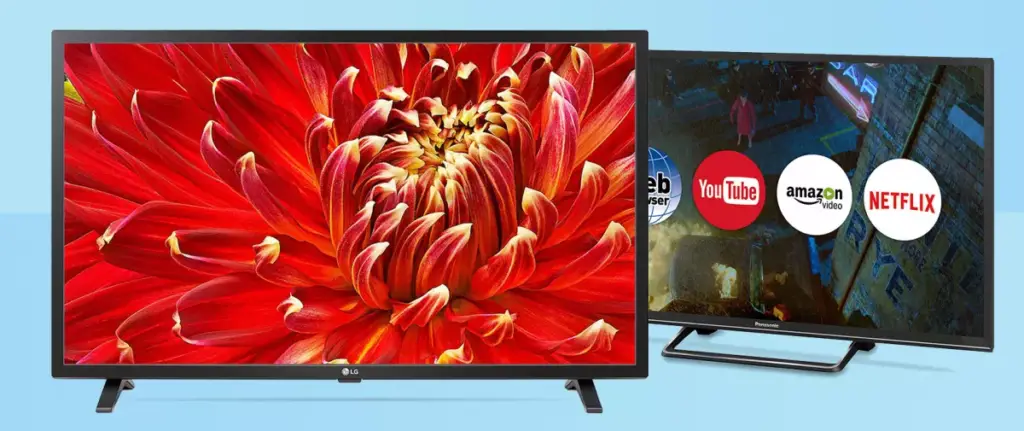 The thing to consider for the Best LED TV 32 Inch
32 inches LED TVs are presented in HD Resolution. With the HD resolution display, you can have the best experience with gorgeous colors, bright clarity, and deep contrast in your favorite movies and TV shows. You will also enjoy playing on the big screen on Xbox or Playstation.
An excellent Smart TV helps you with a wide range of apps like YouTube, Amazon Prime, Netflix, Hotstar, and many other social entertaining apps. This approaches up a world of new entertainment choices, from watching a favorite movie to playing games on TV.
The more, the better! Enough numbers of HDMI and USB ports are necessary for connecting several devices like DTH, Soundbar, gaming consoles, laptops, home theaters, pen drives, hard drives, displays, etc.
These are some essential features you will always have to keep in mind before buying any TV or especially 32 Inch Led Tv.
So let's get started…
Best 32 Inch Led Tv
1. Mi LED TV 4A
With the help of this 32 Inch- Led Tv, you can now convert your living spaces into a tiny, theatre. Mi uniquely designed this 32 Inch Led Tv with the support of LED panel and HD.
The HD Ready display lets you discover each detail in luminous clarity. Lifelike colors and better brightness can take your TV viewing adventure to a different level.
Display Size: 32 inches
Resolution: HD (1366×768)
Ports : 3 x HDMI, 2 x USB
Refresh Rate: 60 Hz
Weight: 3.9 kg
Launch year: 2019
Warranty: 1 Year
Sound output: 20W DTS-HD Sound
Smart TV characteristics: PatchWall with Android Oreo OS
± Easy to Install
± Robust Design
± Ultra-Bright HD Ready display which will make your watching experience to the next level
± You can connect all the social entertainment platforms.
± It has a feature of connecting WiFi
– Video quality is not so good
– HDMI port does not have ARC compatibility
The smart features contain are WiFi, Android TV 9.0 operating system, Google Assistant, and many more. The pre-loaded apps are Prime Video, Netflix, Hotstar, and more. You can enjoy 600,000+ hours of content on PatchWall.
Stereo speakers with DTS HD audio technology balance the picture output to perfection. The DTS audio quality fills up the room with captivating sound and offers a theatre-like experience.
Also Read: IPL cricket Live Streaming from Hotstar Free (2020)
---
2. Sony Bravia
From this LED TV, anything you watch is efficiently advanced to assurance minimum noise and maximum impact. You will look at the entertainment through the ultra-clear quality Full HD picture.
Sony W6272G Series LED TVs can amuse with high clearness and deep bass. This TV approaches with an FHD screen resolution that facilitates the consumer to experience remarkable clarity and details.
Display Size: 32 inches
Resolution: Full HD(1920 x 1080)
Smart TV features – Smart Plug and Play
Ports : 2 x HDMI, 2 x USB
Refresh Rate: 50 Hz
Weight: 6.3 kg
Launch year: 2019
Warranty: 1 Year
Sound: 30 Watts
± Smart Plug and Play feature
± Neat cable management
± You will experience the best picture quality as well as the best sound quality.
± Protection against dust and electrical fluctuations

– Priced a little bit on the higher side
– Limited smart features
The remote control has a devoted button for Netflix and YouTube. You can also link your smartphone to the TV via USB for seamless internet connectivity with USB tethering. It permits you to observe the action in a lifelike manner while watching movies and shows.
---
3. Sanyo
Along with Onida, Sanyo is a chip off the old block. Sanyo has a renowned history of developing some of the best color TVs.
This Sanyo Kaizen series LED TV allows you to plunge in the fun-filled video watching and gaming experience through the energetic and best visual details.
Display Size: 32 inches
Resolution: HD (1366×768)
Ports : 2 x HDMI, 2 x USB
Refresh Rate: 60 Hz
Weight: 3.8 kg
Launch year: 2019
Warranty: 1 Year
Sound: 20 watts output
Smart TV characteristics: Google-certified Android Pie 9.0 OS
Display: IPS Panel with Super Bright Display
± Full-screen bezel-less display
± One of the best sound quality system
± Seamless connectivity.
± Excellent design and very attractive to look
– The software works with flaws
– Remote is not very friendly
As it is well-suited with Bluetooth 5.0, you can connect your headphones, keyboards, speakers, and game controllers wirelessly.
The IPS screen technology permits you for a remarkable watching experience with better color reproduction, wider viewing angles, accuracy in contrast and color, and better sunlight visibility
Check out: Best 5G Mobiles In India
---
4. Onida
The Onida 32 inch LED TV in the present discussion is unique among other smart LED TVs because it expresses Fire TV experience.
Quickly and with no trouble, you will achieve access to many streaming apps and cutting-edge smart features. Furthermore, the visual experience is lifelike.
Display Size: 32 inches
Resolution: HD (1366×768)
Ports : 3 x HDMI, 2 x USB
Refresh Rate: 60 Hz
Weight: 4.5 kg
Launch year: 2019
Warranty: 1 Year
Sound: 16W output
Smart TV: Built-in Fire TV OS
± Due to 32 inch Led Tv you will have a wide viewing angle
± Controls your Smart Home
± Easy Connectivity
± Lifelike video quality
± Built-in Fire TV facilities
– Not so durably built
– The sound output is loud but flat. Hence, it is better to invest in a soundbar.
This TV approaches with outstanding connectivity options with a built-in WiFi and LAN. The three HDMI and one USB port let you connect a range of well-matched devices like laptops, soundbars, smartphones, and others.
---
5. LG
LG TVs have always been well known in India because of their outstanding picture quality, coupled with a good sound system.
LG will surely give the best picture quality in 32 inch led TV. Its slim bezel and modern finish complement the interiors to present an improved viewing experience.
Display Size: 32 inches
Resolution: HD (1366×768)
Ports : 2 x HDMI, 2 x USB
Refresh Rate: 50 Hz
Weight: 6.3 kg
Launch year: 2019
Warranty: 1 Year
Sound: 20W
Smart TV: Built-in WiFi
± Multitasking made simple
± Simple, beautiful design
± Supports cloud photo & video
± Dual Bluetooth connectivity
– No headphone jack
– Absence of magic remote
With the help of built-in speakers, the audio system offers multi-dimensional audio. You will hear to sound from all angles.
Check out: Best Phones for Camera Under 25000
The HDR technology makes sure to differentiate between black and white shades to bring pictures of high quality.
---
FAQs
Which type of LED TVs can you consider in a 32-inch size range in India?
Usually, in the 32-inch TV segment, you would discover Full HD LED TV, HD Ready LED TV, and Smart LED TV options. Mainly, the Full HD Smart televisions are the most feature-rich and also luxuriously priced in this segment.
What is the usual price range of 32-inch LED TVs in India?
In India, the 32 inches LED TV's are made existing from about Rs 10000 to Rs 33000. In this price range, you can simply locate a fully-functional television that encounters all your essential expectations.
What refresh rate you will usually find in top-quality 32-inch LED TVs in India?
The refresh rate signifies the rate at which the TV screen refreshes. Usually, the 32 inch LED TVs are made accessible with the refresh rate in the range of 50 Hz to 120 Hz.
Conclusion
At your suitability, you can get a theatre-like movie watching experience from any of these 32 inch LED TVs. They will fulfill your prospect concerning display quality, resolution, sound quality, the connection of external devices, and ease of installation. Moreover, to the display, you need to concentrate on some more features to make the most of your investments.
Here I have tried to state some best 32 inch LED TV, which will help you get some best video quality and best features.
If you have any other 32 inch LED TV which you want me to add, don't hesitate to comment below.